Avocado Pear is a flowering plant of the family of Lauraceae. Avocado is a large berry plant containing a single large seed. Its botanical name is Persea Americana Miller or Persea Gratissima.
Avocado contains fats, sugars, proteins, minerals, salts, and vitamins. It is also rich in Iron, and Vitamin B6. It also has anti-anaemic properties.
It is good for pregnant women. it helps in fighting infertility in women, hormonal imbalance, low sperm count, and also useful for people suffering from Sickle Cell.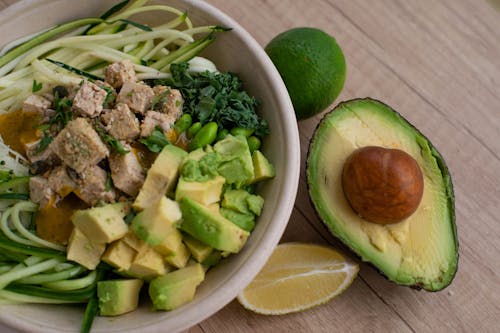 Avocado Pear plants is a total solution as its seed, leaves and fleshy fruit is beneficial in the treatment of various ailments. However, it should be noted that to gain maximum benefit from this plant, it must be incorporated into your daily diets.
According to the United State Department of Agriculture (USDA), 100grams of Avocado, contains the following: (Source: USDA)
Amount Per 100 grams
Calories 160
% Daily Value*
Total Fat 15 g
23%
Saturated fat 2.1 g
10%
Cholesterol 0 mg
0%
Sodium 7 mg
0%
Potassium 485 mg
13%
Total Carbohydrate 9 g
3%
Dietary fiber 7 g
28%
Sugar 0.7 g
Protein 2 g
4%
| | | | |
| --- | --- | --- | --- |
| Vitamin C | 16% | Calcium | 1% |
| Iron | 3% | Vitamin D | 0% |
| Vitamin B-6 | 15% | Cobalamin | 0% |
| Magnesium | 7% | | |
*Per cent Daily Values are based on a 2,000 calorie diet. Your daily values may be higher or lower depending on your calorie needs.
Uses of Avocado
Treatment of Ulcer: The leaves of Avocado can be used for the treatment of Intestinal Ulcer.
Preparation: Fill a medium sized pot with fresh leaves of Avocado, add water and boil for at least 10 minutes; allow to cool. Application: Drink a glass 3 times daily for at least thirty (30) days (1 cup each morning, afternoon, and night)
Alternatively: Dry the leaves and grind to powder.
Application: Add 1 teaspoonful to a cup of hot water and allow to cool before drinking. Drink 2 cups daily for 1 month (1 cup in the morning and 1 at night).
Treatment of Cholesterol: It helps in fighting heart diseases by reducing the cholesterol level from bad to good with the help of its hypoglycaemic properties. To achieve better result, eat one Avocado pear daily for a period of 3 months and the cholesterol level will normalise.
Treatment of Hypertension: It is a good remedy for hypertension. It normalizes high blood pressure.
Preparation (Method 1): Boil 20 seeds of Avocado in 10 litters of water. Boil until the seed becomes soft. Strain the water and sieve.
Application: Drink a glass every morning and night for 2 months.
Preparation (Method 2): Cut the seeds into pieces and dry, then grind to powder.
Application: Add 1 teaspoonful of the dry powder to a glass of hot water and allow for 10 minutes then sieve and drink 2 cups daily (Morning and Night ! cup each).
Caution: When taking this preparation for the treatment of hypertension, ensure to check your blood pressure daily to avoid it getting too low.
Conclusion
Avocado pear is highly beneficial for the human health for the treatment of intestinal ulcer, hypertension, Cholesterol. The Avocado oil extract can be used in the treatment of eczema, irritations from chemicals and excessively dry skin. When massage into the scalp twice daily, it clears dandruff and makes the hair smooth, strong and healthy looking. It is also good for people suffering from rheumatism, arthritis, muscular aches.